We are excited to finally share with you the big top-secret project that's kept Santa's elves so very busy; it's Windcrest Santa's first book, A Visit on Christmas Eve: A Lesson in Secret Giving!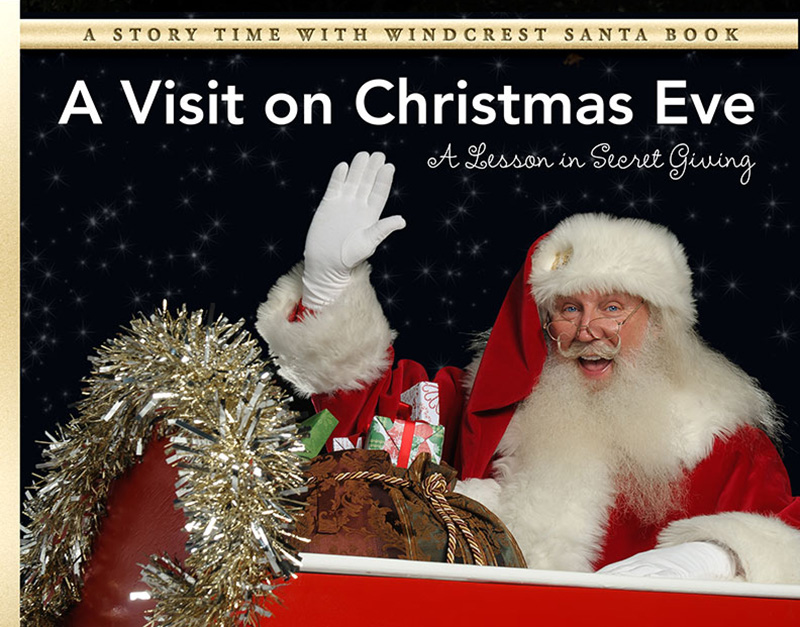 What's the book about?
In this 40-page full-color story book, you'll learn how Santa gets into houses without chimneys, what he drives when his sleigh is in the garage, and how much he loves his little dogs. But most important, learn why Santa gives gifts to boys and girls around the world, and why we should all engage in Secret Giving.
What is Secret Giving?
In Matthew 6:1-4, Jesus warns us against doing "good deeds publicly, to be admired, because then you will lose the reward from your Father in heaven." Instead, we are called to "give your gifts in secret, and your Father, who knows all secrets, will reward you."
In A Visit on Christmas Eve: A Lesson in Secret Giving, Windcrest Santa explains the reason he gives toys to children is in honor of God's gift to us – our salvation, in the form of Jesus Christ. He encourages children to join him in Secret Giving.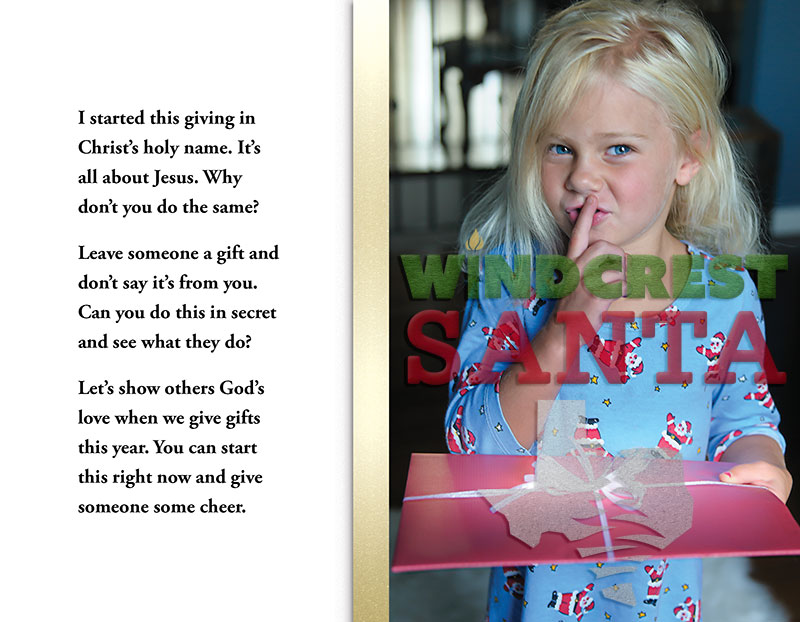 What are people saying about the book?
Feedback has been incredibly positive!
This book is fun, light-hearted and the photos are masterfully shot.
I love this book! You don't often see children's books with real photography rather than illustrations. These are so well done! It makes Santa much more real and personal.
They also remark on the connection it makes between Santa and Jesus:
Absolutely amazing. A contemporary twist on this classic tale – a heart-warming Christmas story for children both young and old. The beauty of selfless giving and the power of the birth of Christ interwoven to create a timeless treasure.
I love the connection made between Santa's "secret giving" and the true meaning of Christmas. I want my kids to know that Christmas is about so much more than waiting for Santa to show up and give them presents. This book is a great way to introduce the importance of giving to bless others.
And some even say they're inspired to create new traditions with their family:
A fun book full of awesome photos and a great message for the Christmas season. I love that Santa sometimes trails off topic, while trying to tell his story, and starts talking about his personal life. Mrs. Claus is there to sweetly get him back to the story, though. The message of Santa's secret giving as a way of honoring God's gift to us is a wonderful way to look at it and has made me all the more excited for Christmas this year. I can't wait to have my kids take on Santa's challenge in the book, to give gifts secretly themselves as we're encouraged to do in Matthew 6:1-4.
How can I get my copy of the book?
A Visit on Christmas Eve: A Lesson in Secret Giving is available in two forms:
A printed book, 9″x7″ with 40 full-color pages, bound in softcover. Quantities are limited, so order yours early!

An eBook, perfect for children to read on an iPad, Kindle Fire, or on a PC or Mac through a web browser.

Ideas for using the book
A Visit on Christmas Eve: A Lesson in Secret Giving makes the perfect gift for family and friends. It's a great hostess gift, and is ideal for giving to the pastors, preachers, and Sunday School teachers in your life.
It's also the perfect complement to a home visit from Windcrest Santa. He can read the book as part of his visit, and then give the books you bought to the children to keep. For more information about scheduling a home visit with Windcrest Santa, click here.